Old Town New World (OTNW) is an initiative. Our mission is to design and conduct projects that affect positive change for communities, cities, regions, nations, and the world. Our focus is the rebirth of the village culture in the new economy.
The people behind what we do include Jason Broadwater, the RevenFlo Crew, and whoever is working with us on any particular project.
Basic Principles Behind Our Work
We believe in citizen participation and institutional collaboration.
We believe in urban district revitalization as critical to economic and cultural advancement.
We believe in connectivity through transportation and robust Internet access and usage.
We believe in effective and compelling communication as the primary medium of change.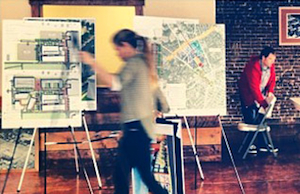 Experience Design
Our core competency is experience design. We create experiences that affect positive change through engaging people. We also look for educational collaboration. We do this because another core question of an OTNW project is "How do we get the people of a community to apply their creative energy to their community?"
Variety
OTNW projects vary by sector and design, but each is about engaging people. The question at the core of an OTNW project is "Who do we want to engage with what and why?" For example, we may want tech talent and entrepreneurs to engage with a burgeoning area of our city for the purpose of creating a stronger economy and revitalized living experience. Another example is if we want to engage a citizen population with a public institution, such as engaging parents with the school system or citizens with governing issues or processes.
Student Participation
If we look at a student population, they are already participating in a learning system that is actively designing work for them to do. The purpose of the work, of course, is for the students to learn the tools and principles behind such work and thus be ready for the workforce. So, what if we designed work for students that was actually real work for the benefit of the community? Therefore we not only get the benefit of these students' ideas and labor, but more importantly, we can inspire a level of buy-in from the young people themselves that will encourage lifelong civic participation. While student collaboration is not a necessity for an OTNW project, it is usually viewed as a desirable ingredient.